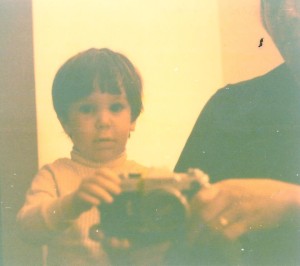 ABOUT ME
I was attracted to photography at an early age as you can see in one of my first images getting a little help from Dad. It took a backseat to my business career until my late 30's when I rediscovered it once again. I have spent the years since shooting professionally for magazines, websites, clothing companies, models etc. There are those that talk about the complexity of shooting weddings. They have obviously never done a week long photoshoot on the beach in a foreign country where the number of possible variables is limitless. 🙂 But I wasn't attracted to weddings for this reason it was the true passion and impact these special days can have on the lives of people.
Shooting weddings allows me to capture memories that will last a couple a lifetime. In addition there is just no substitute for the REAL emotion and passion that I see at every event. Even the most camera reserved groom can't help but steal an loving glance at his bride when he doesn't know the camera is watching. Capturing images like this are offer a reward in themselves that go far beyond any financial reward.
The only thing I enjoy more than shooting weddings is moments like right now with you sitting there reading this. Your interest means you get it, my images spoke favorably to you. This is a very large compliment to me upstaged only by the act of entrusting with with capturing images to record what will be one of the biggest events in your life. So thank you for taking the time to look deeper into me and I look forward to working with you.
Robert Turi